OpenAI's popular AI chat service, ChatGPT, is expanding its capabilities with the introduction of third-party plugins. These plugins allow users to engage ChatGPT in a variety of activities, such as web browsing, planning trips, fetching live prices, and lots more. OpenAI recently announced the rollout of web browsing and plugins to all ChatGPT Plus users, moving from alpha to beta stage and providing access to over 70 third-party plugins.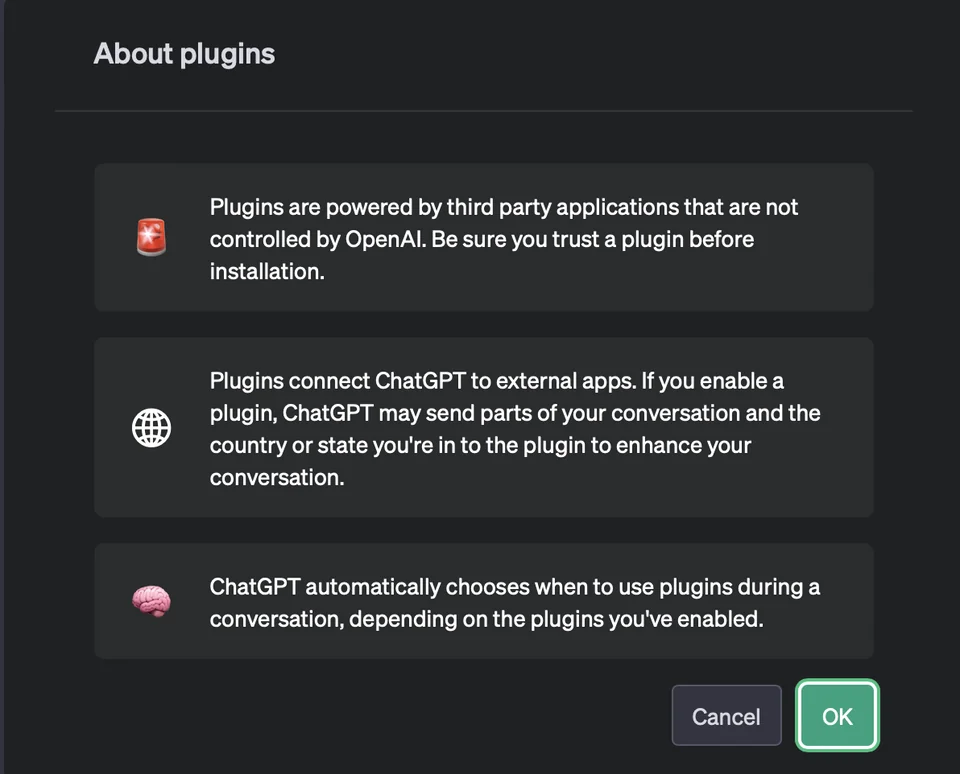 Is There a Waitlist for ChatGPT Plugins?
No, ChatGPT plugins are now being rolled out to all plus subscribers, the waitlist has officially been removed by OpenAI!
To take advantage of these new features, users must be subscribed to ChatGPT Plus, which costs $20 per month. The plugins offer numerous benefits, including access to real-time information like news and stock prices, domain availability, PDF analysis, and even housing market prices. These plugins cater to a wide range of interests, such as marketing, data analysing, price comparison, and SEO, to name a few! Notable third-party providers offering plugins include Expedia, Zillow, Kayak, Instacart, and OpenTable, enabling users to search for jobs, find real estate listings, receive product recommendations, go shopping, play games, and access recipes.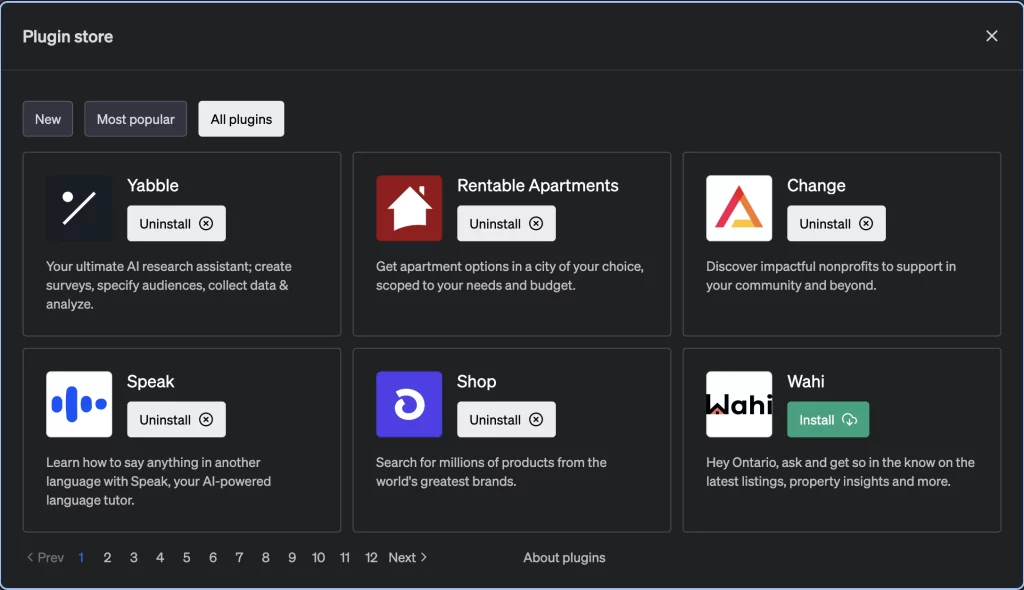 How Do You Access ChatGPT Plugins?
ChatGPT Plus subscribers can try out the new plugins by navigating to the main chat screen, clicking the three-dot icon next to their name in the left pane, and selecting "Settings." In the Settings window, they should choose the Beta features setting and enable the switch for Plugins. After closing the Settings window, users can hover over the GPT-4 model at the top of the screen and select the Plugins Beta option. By clicking the dropdown arrow for plugins and choosing Plugin store, users can explore available official and third-party plugins. Installing a plugin is easy, you just select which one and click the Install button! While users can install multiple plugins, they can only enable up to three at a time. To control plugin activation, users should return to the chat screen, click the dropdown arrow for plugins, and choose their preferred three. These plugins will provide ChatGPT direct access to a wealth of knowledge and information from third-party partners and the web.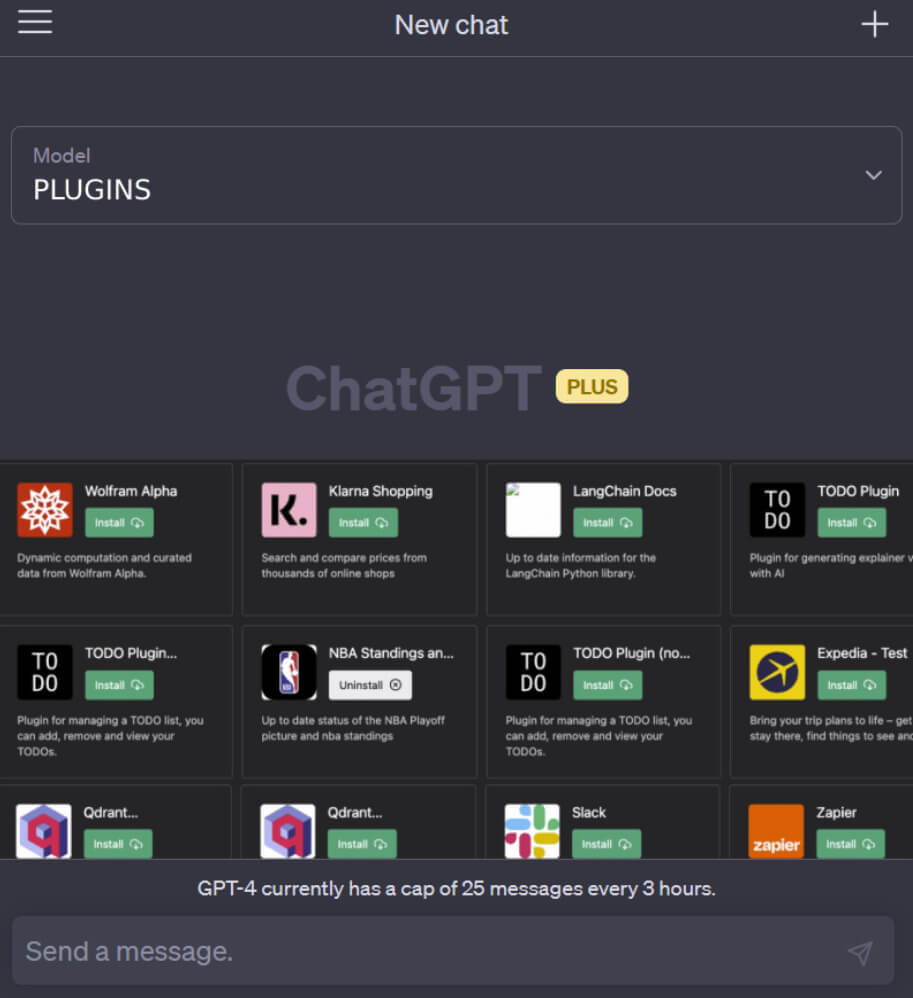 According to OpenAI, this update empowers ChatGPT to access up-to-date information, perform computations, and utilize third-party services, taking the already powerful model to whole new heights. OpenAI has collaborated with developers from a waiting list to create dedicated plugins for ChatGPT. The initial set of plugins includes Expedia, Klarna, Slack, Wolfram, OpenTable, Shopify, and more. Additionally, OpenAI has developed its own plugins—a web browser and a code interpreter—which enable ChatGPT to access the internet and execute code.
How Do ChatGPT Plugins Actually Work?
So, how do these plugins work? Based on OpenAI's demo video, users will need to install specific plugins that they want ChatGPT to utilize. These plugins operate simultaneously with ChatGPT's functionality, allowing the bot to leverage these tools. For example, if a user seeks a dinner reservation, ChatGPT will utilize the OpenTable plugin to suggest and even book a restaurant. This is done by allowing ChatGPT to make an API call request to individual websites and services. The fact that ChatGPT can make API requests and interpret the information is truly astounding!
The introduction of plugins represents an exciting step forward for ChatGPT, enabling users to access a broader range of features and functionalities. With the ability to tap into real-time information, execute code, and leverage third-party services, ChatGPT is poised to become an even more versatile and valuable tool for so many things. The popularity of ChatGPT plugins is also sure to cause a stir for many competitors who have been looking to outmaneuver OpenAI. It almost feels open-source now, the fact that any developer can come along and develop their own plugin for the world's most popular AI chatbot is definitely going to peak the interests of developers worldwide!