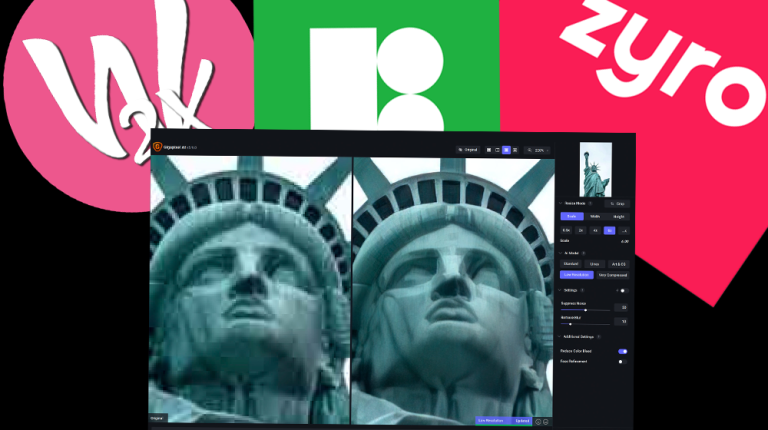 Image upscaling has come a long way in the last few years. The current AI image upscalers are more than capable of upscaling images to 4k, and even 8k in some situations! Depending on what you'll be using your images for, you can find some great free tools that will let you upscale up to 4x for free. If you're looking for even higher resolutions (i.e. for prints), you may need to look into a premium AI image upscaling tool. There are quite a few different AI image upscalers out there, and choosing which one to go with can be hard. That's why I've put together this list of the five best AI image upscalers which offer easy to use interfaces and give the highest quality outputs for your upscaled images!
What Are the Best AI Image Upscalers?​
TopazLabs GigaPixel AI is hands down one of the best image upscaling tools on the market. It features a full software suite which allows you to upscale your images by 2x, 4x, 6x, and even higher (although the program will give you a warning that upscaling higher than 6x can compromise image quality). GigaPixel AI is super easy to use too, even for beginners. You can drag and drop all your photos, either one by one or altogether, into the program. It allows you to batch upscale all of them in one click, and you can even use the AI to auto-optimize each image, which lets it choose the best settings for you. I've not been let down by GigaPixel AI yet, the only small problem I've had is that the AI doesn't always select the best upscaling algorithm for all images – usually art and paintings, although you can always change this manually.
Waifu2x is an open source upscaling technology that uses Nvidia CUDA. It was created as an anime picture upscaler (if you hadn't already guessed!), but it does surprisingly well with most other types of images including realistic photos. You can use this upscaler for free on a few websites, the one we use lets you upscale up to 10x for free although I wouldn't recommend going that high. In most cases you really only need 4x or 6x! The higher quality your original image, the better job the AI will do at upscaling it.
If you're looking for a quick, easy way to upscale a few images, Zyro is a good choice. You can use Zyro's AI image upscaler on their website via a drag and drop interface. They use a standard upscale amount for every image, so there are limited settings and you won't be able to get 4k images with this tool. The good thing is you don't need to create an account or login to download your image after its been upscaled. Zyro is a good tool if you're just after a quick 2x upscale for a few images and don't feel like downloading any software.
Vance.ai, like Zyro, also has a free AI image upscaler with a drag and drop interface. With Vance.ai you can upscale your images up to 2x or 4x, with 2 extra settings to supress noise and remove blur. You can achieve 2k resolution fairly well with this tool, it's a good pick for anyone generating AI images and wants to upscale them to slightly higher quality. Stable Diffusion, for example, outputs images at 512x and 768x, so using the 4x upscale lets you easily bring them up to 2k quality!
Among Icons8 features is a rather powerful AI image upscaler. You can access this tool on their website to try it out, although it is limited to 2x upscaling. The max upscale resolution output is 7680×7680, here's a great trick for upscaling your images to that resolution for free! Use a few of the other upscalers above to upscale your image to at least 4000×4000, and then upload it to the Icons8 upscaler. After running it through their upscaler you should now have an 8k image! The final quality will depend on the style of image you used, but you can get some great results on most images with minimal quality loss.
Pros:
7680×7680 max output resolution
No account sign up required
API available for batch upscaling
Cons:
Only 3 free upscales until you have to sign up/subscribe
Limited to 2x on the free version
Recently, Icons8 has added a watermark to the images, we hope they remove this feature for the 3 free images as it used to be.
I hope you're able to find an AI image upscaler tool which suits your needs from this list! Personally, I'm using GigaPixel AI as my main upscaler and it has yet to disappoint me. TopazLabs seem to really be on top of the AI upscaling tech for both image and video. Before GigaPixel, I used a lot of the free alternatives listed above and they can do a great job if you combine them together. For example, use one tool to upscale about 2 or 4x, then switch to a different upscaler and do the same with your previously upscaled image. The results can vary, but most pictures do end up coming out with pretty good quality when you use this method.
If you're generating AI images or art, you might be extra interested in upscaling your images, as the output resolution of most generators is sadly still quite low. Fortunately, Midjourney has it's own built in upscaler which is pretty powerful, although not everyone is going to be willing to pay the monthly subscription that comes with it. 
If you're using Stable Diffusion, you actually have a few options for upscaling: see our guide here for how to use the built-in upscalers such as ERSGAN and 4x-UltraSharp. You might also be interested in our page on the Best Upscalers for AI Art.