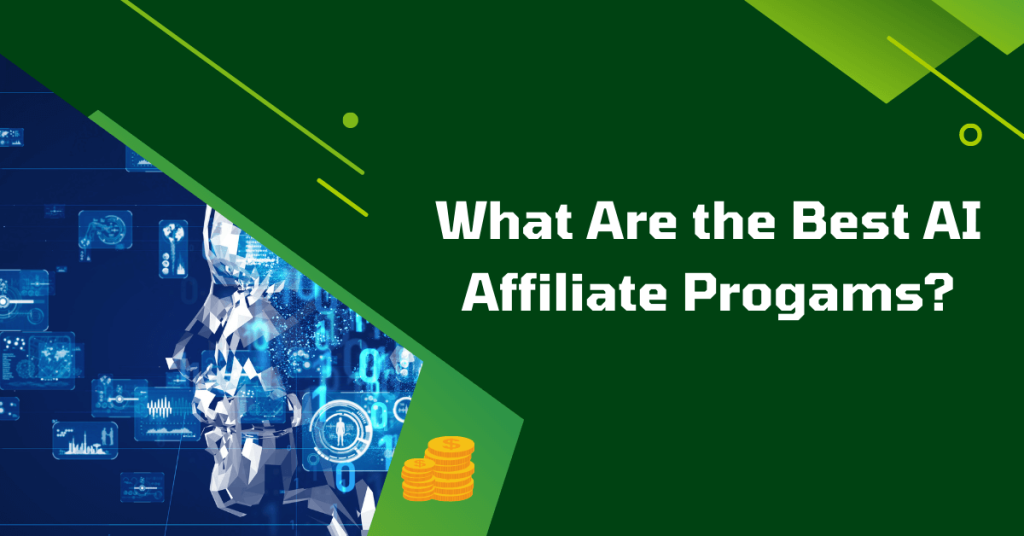 If you're an affiliate marketer looking to tap into the ever-growing AI market, you're in the right place. In this post, we'll delve into the top 5 AI tool affiliate programs that offer great commissions and also benefit your audience. AI tools have all sorts of capabilities across multiple niches, so there's sure to be some AI affiliate programs that fit right in line with your target audience.
What sort of commissions do AI affiliate programs offer?
We've found that most AI tool affiliate programs offer anywhere from 20% up to a whopping 50% commission, with around 25% being the average. The percentage you receive will often vary depending on how many leads you've accumulated. Some affiliate programs offer higher commissions to high-performing affiliates, which serves as a nice incentive to send more traffic!
Do we use these affiliate programs ourselves?
We do! We work with many AI tools as an affiliate, and we'll make sure to include only ones which we have personally seen success with.
Some of you might be wondering if OpenAI, the company behind ChatGPT, offers an affiliate program- sadly they do not as of yet. We hope that in future they will offer some sort of affiliate program!
Without further ado, let's get started with our top recommendations for AI affiliate programs.
Top AI Affiliate Programs
We'll start off with Content at Scale as our first recommendation. This AI tool is a great all-rounder, as it offers quite a few different tools and features. As the name suggests, Content at Scale is entirely dedicated to content creators and aims to simplify the creation process. 
They offer a free AI content detector which can be great value to your audience. If your lead decides to purchase a membership, they get access to Content at Scale's suite of AI content tools. This gives users many ways to create content – such as converting a podcast or video into an article.
As an affiliate, all of your referrals will receive 20% more credits on any Content at Scale plans – this is a nice extra incentive that you can offer to your readers!
SurferSEO is a well-known and pretty highly rated AI SEO tool in the SEO space, making it an ideal affiliate program to offer to your audience. 
Surfer offers a number of AI features for improving SEO, such as AI content writing, headline optimization, keyword enrichment, and more. It's designed to work as an all-in-one solution to a websites SEO strategy.
The platform also offers customers several add-ons which can be purchased additionally on top of the subscription. As an affiliate, you receive a base 25% commission and 10% commission for any add-ons that are purchased.
Wondershare is another great AI affiliate program to promote, since it offers a ton of AI tools. You've got Wondershare Filmora, Virbo, Recoverit, and more, all of which are pretty powerful! It also increases the chance that one of your referrals will purchase something, as they offer so much variety.
If your niche is to do with videos and video editing, Wondershare could be a great platform to start promoting. Virbo is still relatively new, so there will likely be lots of software updates (you could potentially share those with your audience).
Unlike many other AI tools, Wondershare Filmora is available as downloadable software. This can be a great selling point when promoting the tool!
To register for the Wondershare affiliate program, you'll need to have an account with ShareASale. You can then join the affiliate program by searching for "Wondershare.com" on the Merchants page.
Topaz Labs offers AI tools for image and video editing like Gigapixel AI, Video AI, and Photo AI. These tools are highly rated, making them easier and more enticing to promote.
Those within the photography and digital art niches will likely find that these tools perform great with their audience. Gigapixel AI, in particular, is one of the most popular tools available for upscaling images. This can be extremely useful to a photographer or someone who touches up old photos.
There is a customer link generator option available on the Topaz Labs affiliate dashboard. This lets you directly link to any of the AI tools they offer.
To join the Topaz Labs affiliate program, you need to first register an account on their website. You may need to contact them with your affiliate application before you are approved.
Pixlr is another AI tool suite that performs great with photography audiences. They offer an AI photo editor, image generator, and design tool. There are also a number of free tools available on the Pixlr site, which are sure to engage and provide value to visitors!
Some of the AI tools available include an image background remover, object remover, collage maker, thumbnail creator, and more. It's a good idea to promote each tool they offer, and be sure to inform your readers of the free tools, too (they will appreciate it!).
To register for the Pixlr affiliate program, you'll need to have an account with ShareASale. You can then join the affiliate program by searching for "Pixlr.com" on the Merchants page.

FAQs
How can I get started as an affiliate marketer promoting AI tools?
To get started, you'll need to join an affiliate program, you can join as many as you like! Although some programs may require you to submit an application first. Look for companies with a proven track record, a range of high-quality AI products, and a fair commission structure. Register as an affiliate, obtain your unique referral links, and start promoting the AI tools through your marketing channels.
What marketing channels are effective for promoting AI tools as an affiliate?
Several marketing channels can be effective for promoting AI tools:
Content Marketing: Create informative blog posts, articles, and videos that highlight the benefits and features of the AI tool that you're promoting.

Social Media Marketing: Utilize platforms like Facebook, Twitter, LinkedIn, and Instagram to share engaging content created using the AI tools and attract potential customers.

Email Marketing: Build an email list and send targeted newsletters showcasing the value of AI tools and any special offers or discounts. AI tool newsletters are highly popular right now!

Webinars and Online Events: Host webinars and online events to demonstrate how AI tools can solve specific problems and answer audience questions. This one is a bit more hand-on, but can show great results if you are willing to connect with your audience.
Can I promote AI tools in niches other than technology?
Yes! AI tools have applications in various industries, such as marketing, finance, healthcare, and education. Tailor your promotions to target specific niches where AI tools can offer significant value and solve specific problems.
Remember, as an affiliate marketer, your success depends on building trust with your audience, understanding their needs, and recommending high-quality AI tools that genuinely benefit them. Don't promote something that you wouldn't use yourself!
We hope this page has been helpful in providing you with some of the best AI affiliate programs to promote. There are many more AI tools out there which offer affiliate programs, and you can find a lot of them on affiliate platforms like PartnerStack, ShareASale, and Impact Radius.