Google Bard, the ChatGPT alternative developed by Google, has received a major update, expanding its availability it's interactivity and languages. In this post, we will go over some of the main changes and the updates to the LLM chatbot.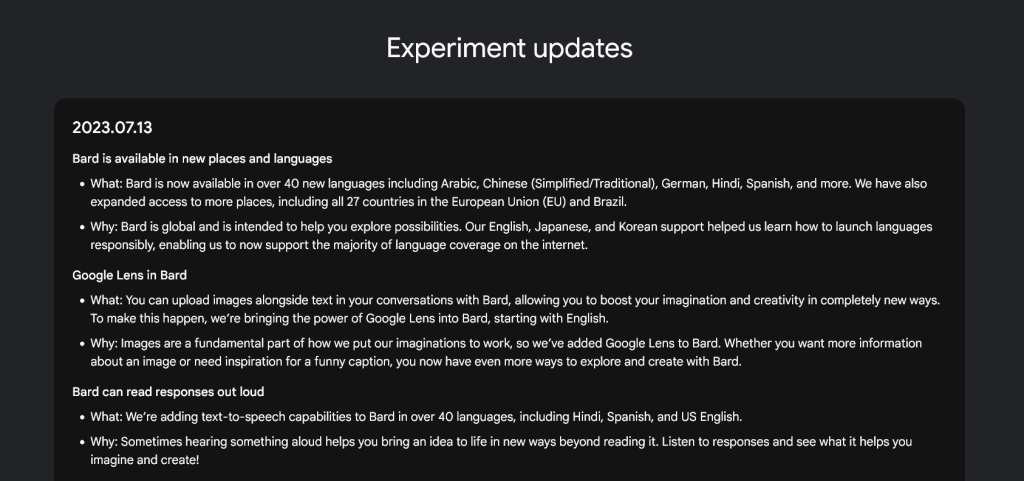 Multi-Language Functionality
Bard is now accessible in over 40 additional languages, including Arabic, Chinese (Simplified/Traditional), German, Hindi, Spanish, and more. Furthermore, Google has expanded access to Bard in all 27 countries of the European Union (EU) and Brazil, making it truly global and opening up possibilities for users worldwide! Those who couldn't previously access Bard might now be able to thanks to this latest update.
Integration of Google Lens
One of the exciting new features introduced in this update is the integration of Google Lens into Bard. Users can now upload images alongside text in their conversations, allowing them to explore new realms of imagination and creativity. This addition enables you to obtain more information about images or find inspiration for creating captivating captions. Google recognizes the significance of images in enhancing the creative process and has seamlessly integrated this powerful visual tool into Bard.
Text-to-Speech
Google has also decided to incorporate text-to-speech capabilities into Bard. That's right, you can now listen to Bard's responses out loud in over 40 languages, including Hindi, Spanish, and US English! This feature adds a whole new level of interactivity to Bard and provides you with an alternative way to engage with the content and generate fresh ideas.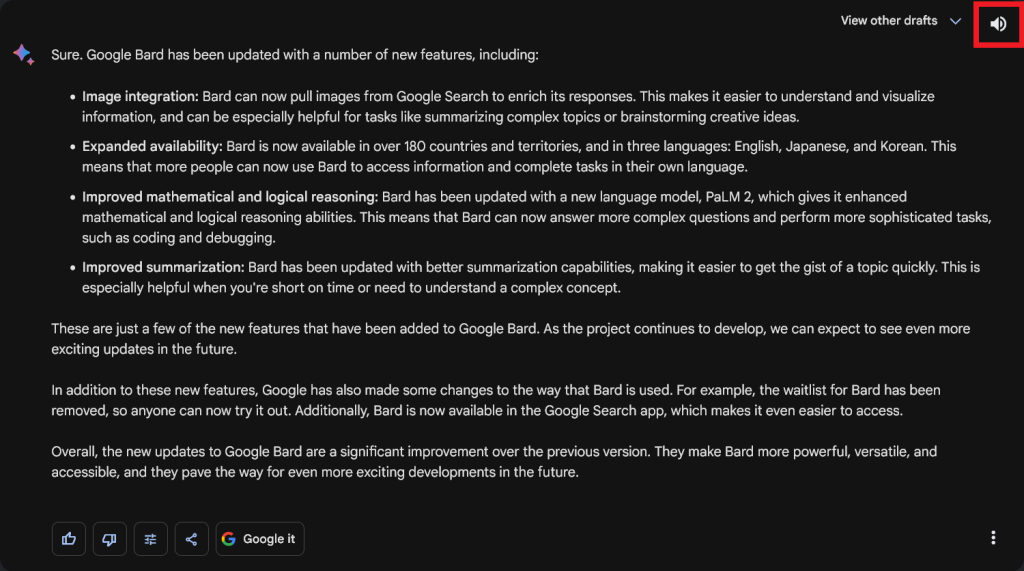 Collaboration Features
The update also introduces useful organizational features to Bard. You're now able to pin conversations, rename them, and manage multiple conversations simultaneously, allowing you to pick up right where you left of. As the best ideas often take time to develop, the ability to maintain and prioritize threads ensures a seamless workflow. This was a highly requested feature and we're glad to see Google implement it so well.
Sharing and collaboration can be important aspects when you're using an AI chatbot, and Google has made it easier than ever to share Bard conversations with others. With shareable links, you can now effortlessly share your Bard chats, allowing others to view the conversation and any associated sources with just a click. This improved sharing functionality aims to inspire others, unlock creativity, and foster collaboration among users.
Output Control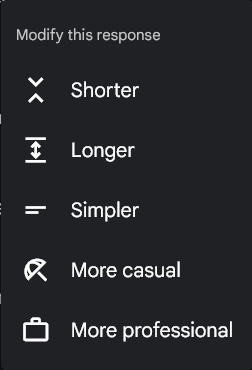 Google has also introduced new options to modify Bard's responses. You can now tap on the response and choose from five different options to make it simpler, longer, shorter, more professional, or more casual. This will allow you to fine-tune Bard's output and align it more closely with the type of content you're looking for.
Finally, Bard's export capabilities have been expanded to include Replit, in addition to Google Colab. You're now able to export Python code generated during Bard interactions directly to Replit, making your workflow easier and allowing for a seamless transition between Bard and Replit.
With these updates, Google Bard is beginning to emerge as a real competitor to ChatGPT. The expanded language support, text-to-speech capabilities and response settings are all highly requested features that really take the chatbot experience up a notch. We hope to see Google continue to add exciting new features to Bard!
Have you used Google Bard yet? If not, you can find more information about it over at our Google Bard listing page.