Creating a logo is an essential part of branding your business. It's the first thing that people see when they come across your brand, and it's what they'll remember you by! That's why it's important to create a logo that stands out and represents your brand.
If you're not a graphic designer, creating a logo can be challenging. Fortunately, there are now many AI logo generator tools that can help you create a professional-looking logo in minutes, with no prior skills or experience needed. In this guide, we'll go over how to make your own logo using AI tools, and we'll also list a few of our recommended AI logo generators.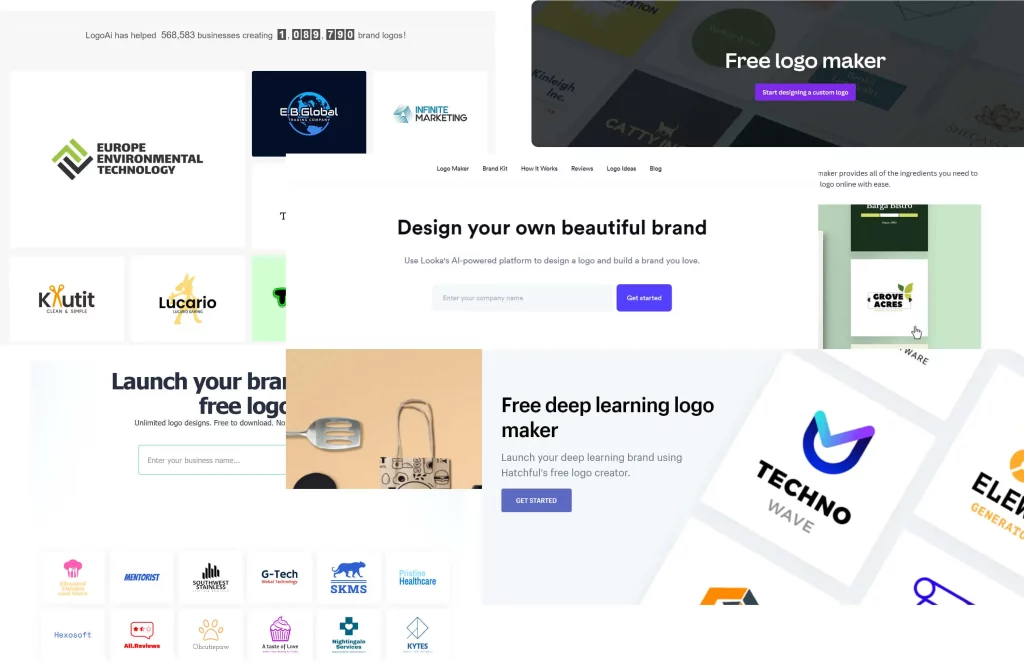 Getting Started
1. Choose an AI logo generator tool: There are several websites and apps that allow you to create a logo for free using AI tools. Some of the popular ones are:
2. Enter your business name and description/slogan: Once you have chosen an AI logo generator tool to use, enter your business name and description. The description is often used as the slogan for your logo, although some logo generators will use the description to determine a style, too.
3. Select a niche or industry: Depending on which AI logo generator you're using, you will usually be given the choice to select a niche or industry for your logo. For example, if your business sells gardening tools, you'll want to pick an industry such as agriculture or nature.
4. Choose your preferred design: After entering your business name and selecting an industry, you will be presented with several design options. Choose the one that best matches your brand. Many logo generators will give you endless options here, so you can keep browsing through designs until you find a logo that fits your business. Don't fret if there are some parts of the logo that you don't like – as we'll go over customization in the next step.
5. Customize your design: Once you have chosen your preferred design, you can usually customize it further by changing the colors, fonts, and other elements. You can also change or remove your slogan here, as well as adding or changing icons. Customization is optional and isn't always needed! If you're just after a simple logo design, chances are you'll be better off without customizing the logo too much.
6. Download your logo: Once you are happy with your design, download it in the format of your choice. This will vary depending on the AI logo generator tool you are using, but often you are given download options for the following formats: SVG, PNG, JPEG, and ICO. Make sure to choose the right format for your needs. If, for example, you know that you're going to be printing out your logo onto business utensils or clothing, you'll want to make sure you have the SVG format.
Recommended AI Logo Generator Tools
Since we've already listed five popular AI logo generators, we'll discuss them in a bit more detail and hopefully give you some ideas for which tool will work best for you. It's also important to remember that these tools are not exclusive – meaning, you can always use more than one AI logo generator in combination with each other, you may even wish to try all five!
It will also depend on how much customization you need to do on your logo, as some of these tools offer more customization options than others.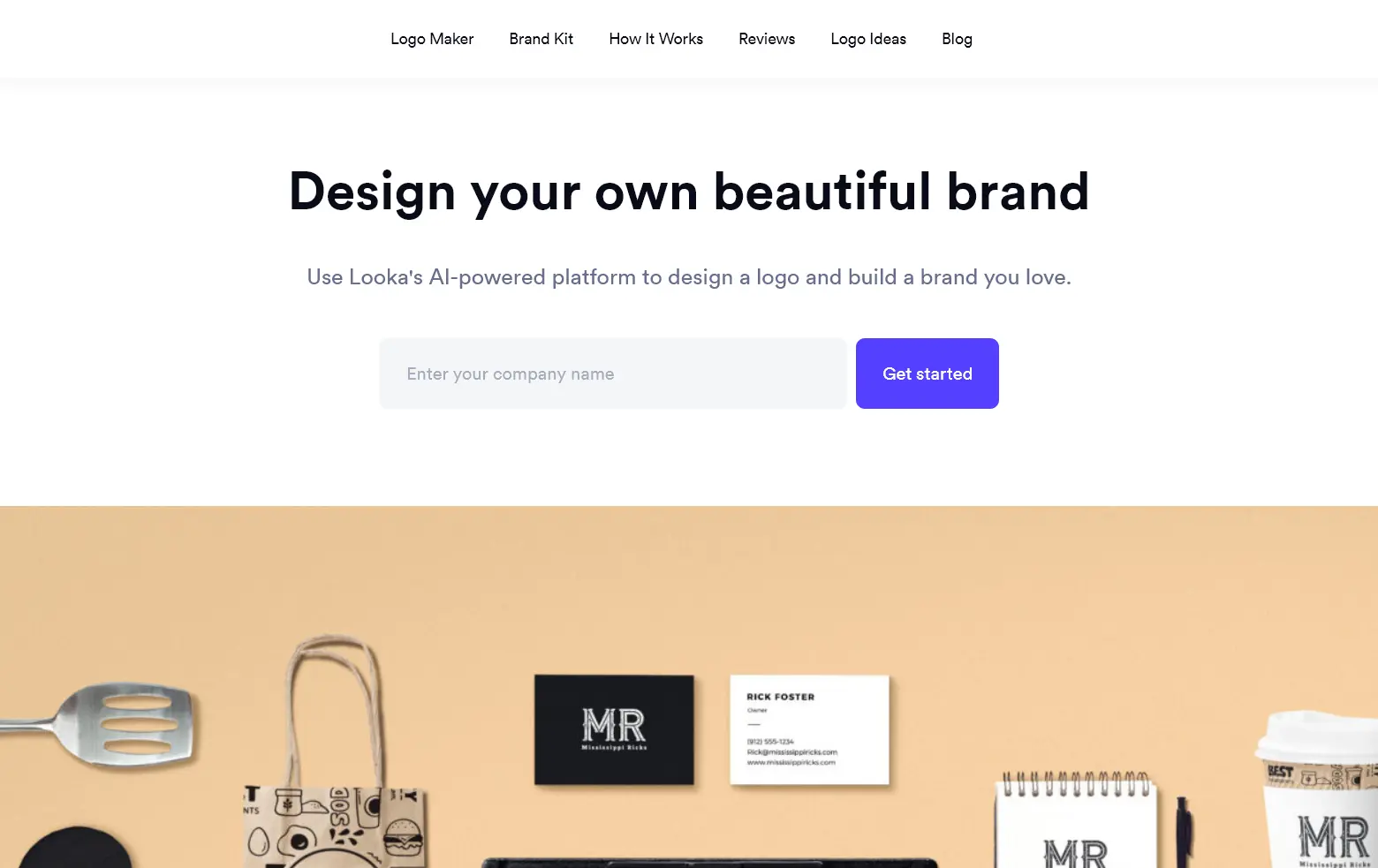 Looka is one of the most well-known AI tools for logo creation. The interface is super easy to use, and logos can be made from start to finish in less than 5 minutes. Looka requires you to enter your business name and industry, and then select a few logos which you like the design for. Selecting the logos you like will allow the AI to see your style preferences and other useful information for creating your logo design.
Once the AI is finished, you'll be given a page of suitable logos to choose from. Here's where you can customize your logo and make any changes. If you don't see any you like – just keep scrolling! Looka features an infinite scroll mechanic, and once you reach the bottom you can click on "Generate more logos" to view even more designs.
Ease of Use:
5/5 – Very easy
Customization:
Background, Color Palette, Symbols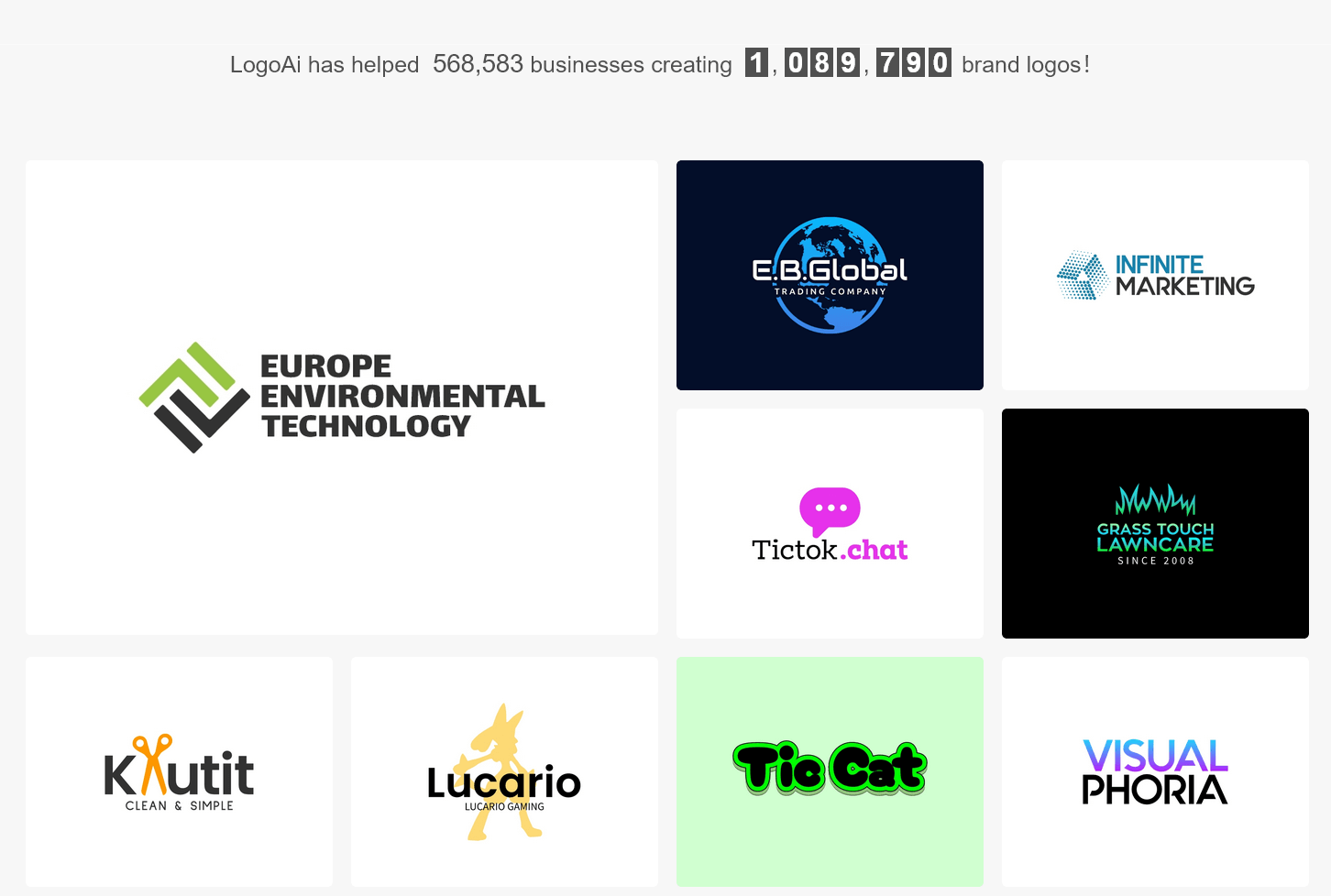 LogoAI gives some great options when it comes to making a logo with AI. The tool can be used entirely for free when it comes to the designing process, you only pay when you want to use your logo commercially. After giving LogoAI your business name and slogan (optional), you can choose from one of several industries such as travel, finance, retail, technology, and more. The tool only lets you select one industry, so be sure to pick the one that most matches your business. 
The next step is selecting your color scheme, this part is optional but we highly recommend using it as it makes your logo more unique. The color scheme sets the baseline for how your logos color palette will look. Choosing the "warm" color scheme will give your logo joyful, happy, and energetic colors such as orange and red. If you're after a more professional-looking logo, try going with the "cold" color scheme! LogoAI also lets you select the style of fonts for your logo, which is again optional but highly recommended.
You also have the option to continue editing your logo after you select one.
Customization:
Style, Layout, Fonts, Color Scheme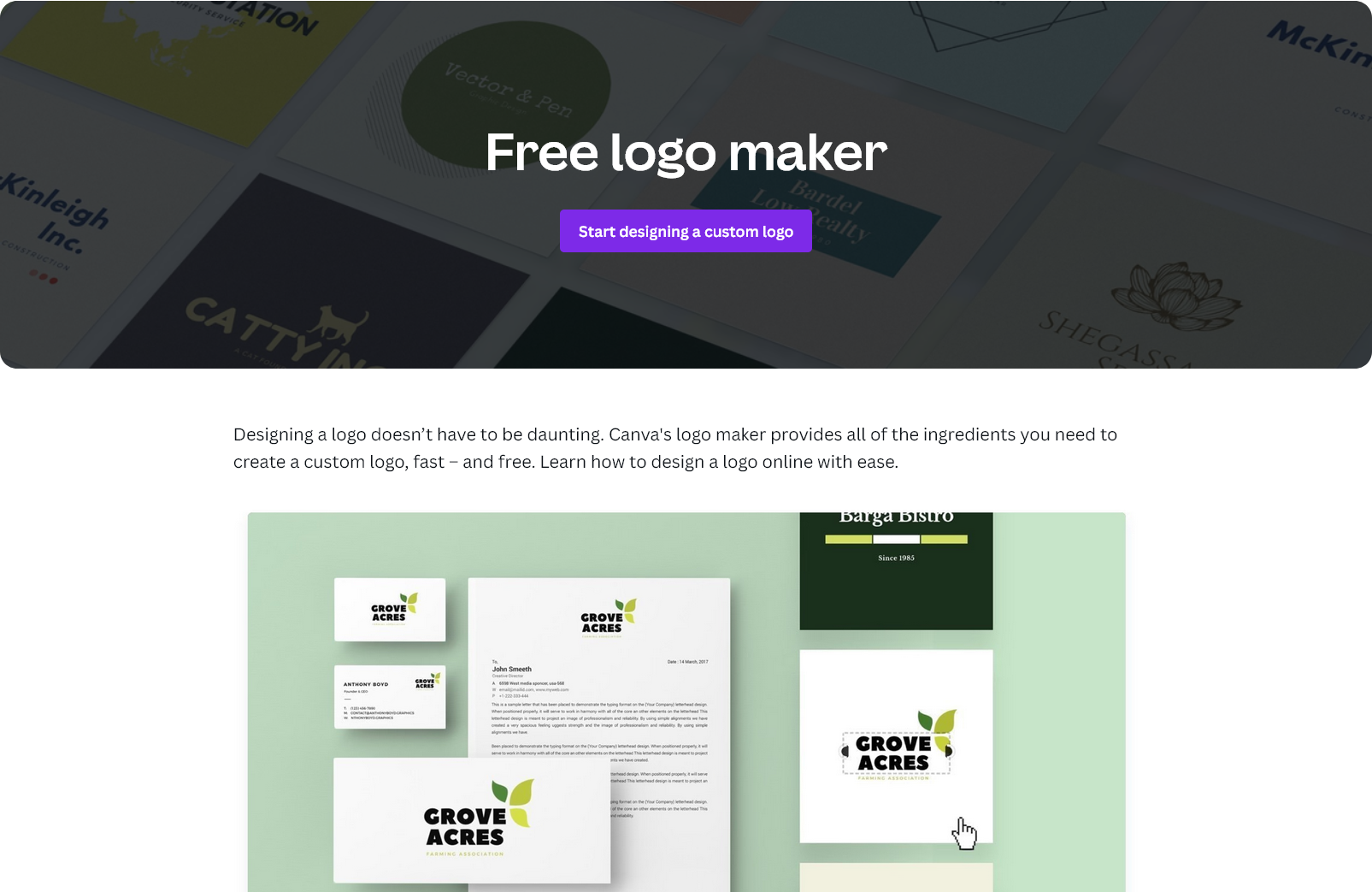 Another big player in the realm of AI logo creators is Canva. Canva is similar to Looka with its interface, and is mostly known for its banner creation tools. Many people think that Canva can only be used for creating YouTube thumbnails, website banners, and similar creatives, without realising that it can also be used to create some fantastic logos!
Canva is a bit more hands-on, as a lot of the design work is chosen by you rather than AI. A huge benefit here is the amount of free templates Canva offers, all of which can be imported into your logo design. Things like backgrounds, images and symbols can all be searched for, and then to use them you just drag-and-drop them onto your logo canvas.
Whilst Canva can be a bit overwhelming to new users, they do offer a comprehensive tutorial page here: (https://www.canva.com/designschool/tutorials/). There are some great resources on there if you're finding Canva difficult to use.
Ease of Use:
3/5 – Average
Customization:
Graphic Elements, Text, Background, Animation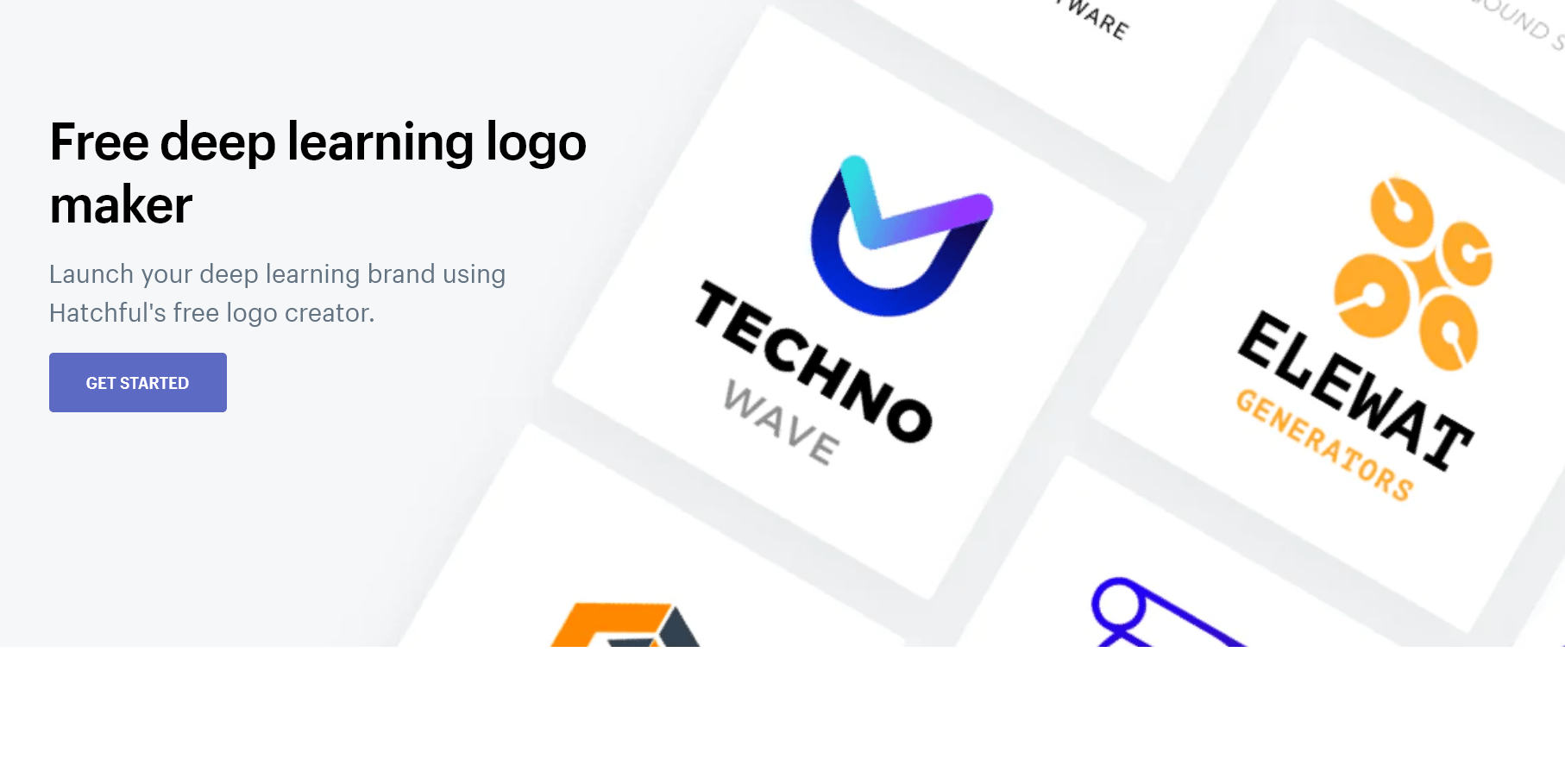 Hatchful is an AI logo generator that is offered for free by Shopify. No sign-up is required to use the logo designer. To get started, you need to choose a "business space" that fits your business. These range from fashion and healthy & beauty, to games and sports.
After picking your business space, the next step is to choose your visual style. You can use the showcase images here to get an idea of what each visual style looks like. For example, the "elegant" visual style can give your logo some nice floral patterns and colors, whereas the "industrial" visual style can give your logo more of a weathered, rustic feel to it. You may want to experiment with the different styles available here, it's also worth pointing out that you can select more than just one visual style.
Next, Hatchful will ask for your business name and slogan, and also where you logo is likely to be shown (online website, store, social media, etc). The tool will then display several logos which should match your choices and include your branding, you can click on edit to customize any of the logos. Hatchful also features infinite scroll, so you can just keep scrolling down the page until you find a logo you like!
Ease of Use:
5/5 – Very Easy
Customization:
Fonts, Colors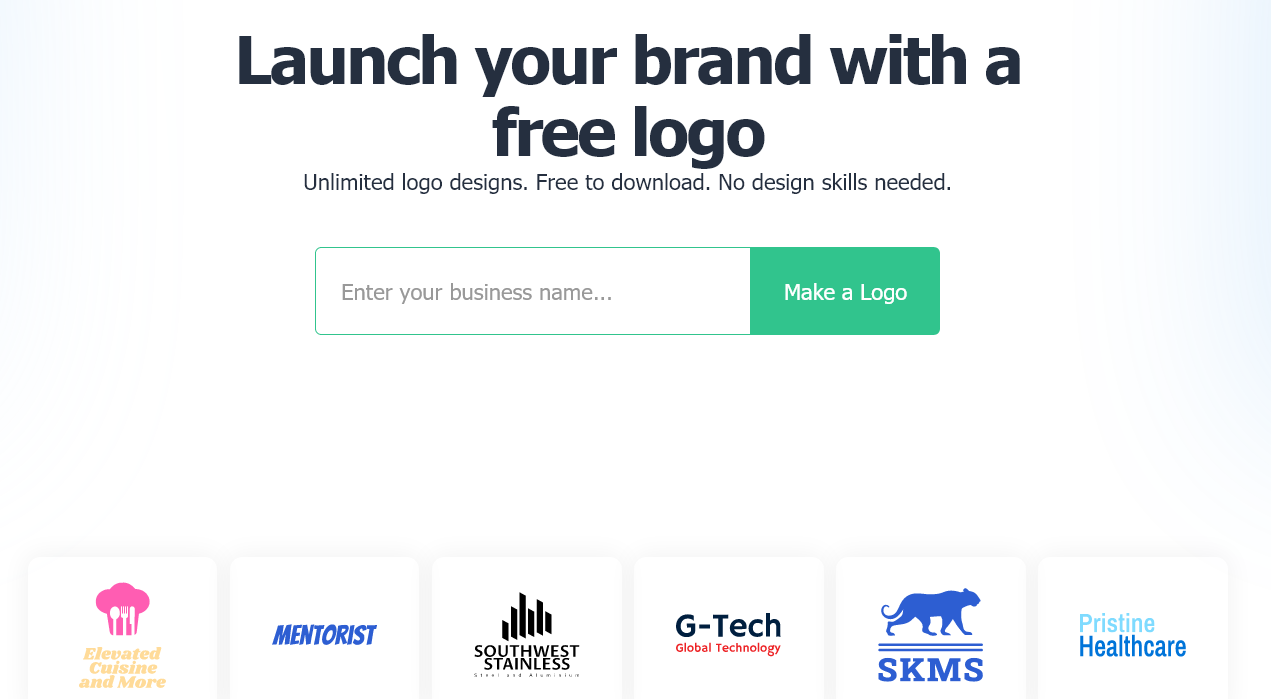 Logo.com's free AI logo generator starts off with you entering in your business name. This tool lets you type in your industry, so you have more options here. Once you've narrowed down your industry, the next step is the color theme. This part lets you choose the basic color palette your logo should use, and you can select up to 5 colors.
Font style is next! Modern, hand-written, bubbly, and elegant are a few of the font styles available. Try to choose a font that will match both your logo and your industry. The bubbly front style might work great for a lemonade stand, but for something like a law firm or accountant, not so much! You can also select multiple font styles, for example: bold and hand-written might compliment each other quite well.
The tool will then ask you whether you'd prefer an icon-based logo or a text-based logo. This will largely depend on your business and personal preference, but it's worth testing out both in some cases. The final step allows you to add even more keywords which will help the AI with generating your logo, this is optional but you should try to add relevant keywords to your industry.
Customization:
Colors, Fonts, Containers, Icons, Layout
Why use an AI logo generator? 
An AI logo generator can save you time, money and effort when creating a logo for your business or project. You don't need any design skills or software to use them, and you can get a professional-looking logo in just a few minutes. You can also get full ownership and high-resolution files of your logo for any purpose.
How does an AI logo generator work? 
An AI logo generator works by analyzing your input and style choices, they do this by asking you questions about your logo and business. They then use AI algorithms and data to learn from millions of logos and best practices in design and marketing. By combining your preferences with tried and tested data from other logos, they're able to provide you with some very fitting designs.
Are AI logo generators free?
It depends on which tool you're using. The actual design process is often completely free. However, to download and use a logo commercially you are usually required to pay a one-time fee. The price of this varies depending on the tool, but some go as low as $15 per logo. All of the logo generators we've included on this page are free to design with, and charge reasonable prices if you wish to download and use a logo.
What file formats can I get from an AI logo generator?
AI logo generators typically provide logo files in formats such as PNG, JPEG, and SVG. These formats are the industry standard for logos and are suitable for various purposes, including online use, printing, and resizing without loss of quality.
Are AI logos unique?
While AI logo generators aim to create unique designs, there is a possibility that similar logos may already exist. This is becoming increasingly likely as more and more people are using AI to create their logo, however, the AI logo creation tools are often updated regularly to keep things fresh. It's still important to check if your logo is overly similar to another trademarked image or logo.
Can I customize my AI logo?
Yes, most AI logo generators allow users to customize the generated logos. You can often modify colors, fonts, layouts, and other design elements to tailor the logo to your liking. We have included a short summary of the customization options for each tool on this page.
Can I trademark a logo generated by an AI logo generator?
It is possible to trademark a logo generated by an AI logo generator, but it is recommended to consult with a legal professional to ensure that your logo meets the necessary requirements for trademark registration and does not infringe upon existing trademarks. You will also have to ensure that the tool you used allows the logo to be trademarked – this is usually incorporated into the copyright and ownership terms.
We hope this page has served as a useful guide to creating your own logo using AI. Graphics design is becoming easier and easier thanks to the help of AI tools, and logo creation is just one of the many benefits that comes with that! We recommend trying out a few AI logo generators rather than limiting yourself to just one.
The main difference in the AI logo generators we listed are the customization options. Depending on what you need to customize, some tools might work better than others. Again, it's best to experiment and try several tools out before making your final decision.