When it comes to AI image and art generators, Midjourney is often known as one of the leading tools. Whilst Midjourney is indeed great and can produce some fantastic images, the caveat is that it costs a monthly subscription to use. Sure, you get the free trial (which will fetch you a maximum of 25 images), but once your trial has expired, the only way to continue using Midjourney is to either pay the monthly subscription, or create another Discord account. The latter, while it does work, is a tedious process and also questionable if Midjourney would actually allow it multiple times over.
The good news is that Midjourney is NOT the only AI image generator out there! There are more and more coming out every few weeks, many of which offer completely free options. In this article, we've rounded up 5 of the best free alternatives to Midjourney. These free AI image generators will let you create images in a similar way to how Midjourney works, simply enter your image prompt and watch it come to life! Let's delve into the first one on our list.
Best Free Midjourney Alternatives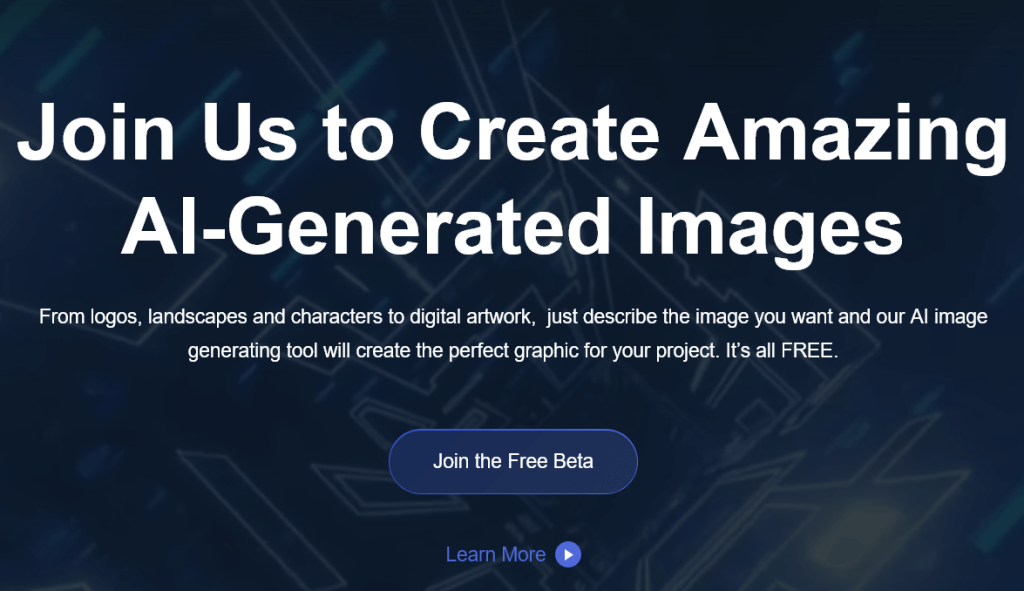 BlueWillow is a bit like Midjourney's younger sibling, the two tools share many similarities. However, the main difference is that BlueWillow is free to use. To generate images using BlueWillow, you need to join the Discord server (https://discord.gg/bluewillow) and enter one of the #rookie channels. Once you're in a channel, it works just like Midjourney. Use the /imagine command followed by your image prompt and hit enter. Just like Midjourney, you'll get 4 image variations per prompt, and you can also upscale and get further variations by using the U and V buttons underneath your image.
BlueWillow recently added version 3 and 4, which greatly increase the quality of images among other improvements. There's a whole channel on their Discord server comparing v3 images to v4, so you can even see the improvement for yourself. Since BlueWillow is so similar to Midjourney, it clearly takes the first spot when it comes to free Midjourney alternatives!

How do I access BlueWillow?
There are two ways to join and use BlueWillow. You can either visit their homepage (https://bluewillow.ai) and click "Join the free beta". Alternatively, you can use the following Discord invite: discord.gg/BlueWillow.
Why does BlueWillow use Discord?
BlueWillow operates on Discord because it provides a community platform for members to share and discuss the images they create. It also allows for contests, discussions, rewards, and events, and facilitates gathering feedback to improve the platform quickly.
Is BlueWillow free for commercial use?
Users retain ownership rights to the images they create using BlueWillow. They are free to use the images for their art or commercial purposes. More details can be found in their Terms of Service.
What engine does BlueWillow AI use?
BlueWillow uses a collection of multiple AI image models. They extensively test and utilize diffusion models like Stable Diffusion. The supermodel then selects the best model based on the user's prompt.
Is BlueWillow better than Midjourney?
It's a common question. In fact, we've actually written a whole article comparing the two AI image generators! Check out our full article here: Is the New BlueWillow AI Image Generator Better Than Midjourney?

Leonardo.ai is a prime contender when it comes to Midjourney alternatives. The image generator was originally marketed as a tool for creating game assets, and still is, however, many users have noted just how good Leonardo is at generating artistic images, too! Leonardo.ai can produce some seriously impressive imagery, even with minimal prompting. 
While Leonardo is entirely free, there is one downside. Currently, the only way to gain access to the image generator is to sign up for exclusive early access on their main website. That said, the average wait time for being accepted isn't all that long – most people tend to get access within the same week they signed up. The sooner you sign up, the faster you can get started with creating images with Leonardo.ai!
How can I access Leonardo.ai?
To access Leonardo.ai, visit the website at https://app.leonardo.ai/ and sign up or register for the waitlist.
Is Leonardo AI free for commercial use?
Yes, you can use the images generated by the platform for commercial purposes. This applies to images created by free users too!
Can I fine-tune models on Leonardo.ai?
Leonardo.ai provides tools and resources for users to finetune models according to their specific requirements. These models can then be used for various AI tasks.
Are there any upgrade options available?
Yes, Leonardo.ai offers upgrade options that allow you to access additional features and benefits. For more information, visit the "Upgrade" section on the platform.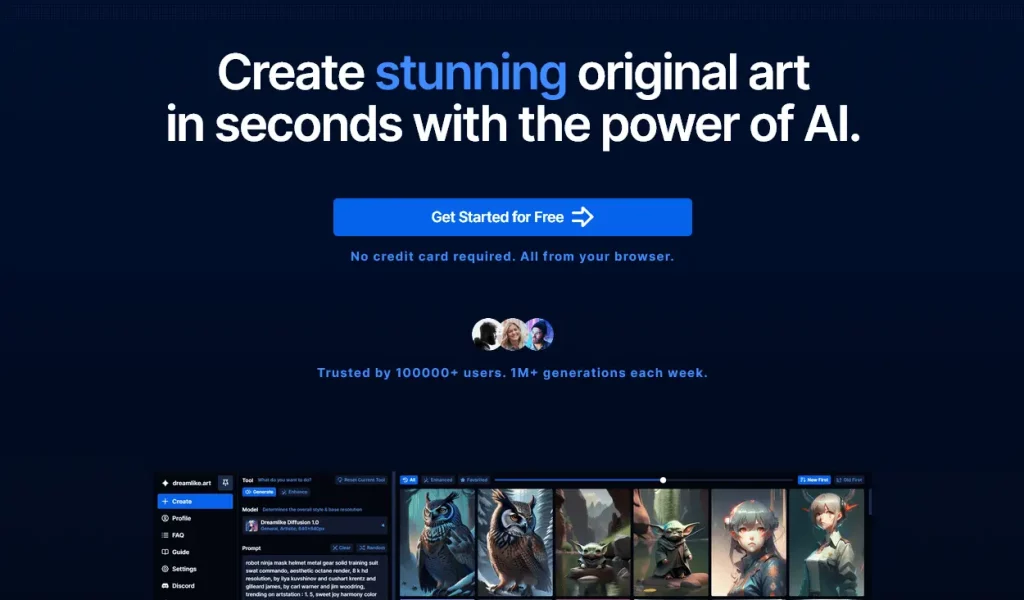 Dreamlike Art allows you to create free AI images using Stable Diffusion models, all through their intuitive web-based dashboard. The Dreamlike dashboard allows you to input both positive and negative prompts, as well as other options such as aspect ratio. There are even more hidden settings if you enable advanced mode!
Dreamlike Art is super fast, and comes with lots of editing features to improve your images. As well as choosing from different models, Dreamlike Art also lets you upscale, edit with natural language, fix faces, copy pose/depth/sketch, make variations, and more.
How can I access Dreamlike Art?
You can access Dreamlike Art and start generating images by visiting: https://dreamlike.art/ and clicking on "Get started"
Is Dreamlike Art free?
Dreamlike Art lets you claim 24 free credits each day. Each credit can be used to generate a different image.
How do credits work?
Each credit allows you to generate a single 512x512px image at 30 steps with Euler sampler. The cost of generating an image varies based on the parameters and tools used. The credit cost is displayed on the "Generate" button.
Can you use images generated by Dreamlike Art for commercial purposes?
Yes, you can use the images commercially as long as you follow the content policy and don't use them for anything illegal.

Playground is a great free AI image generator platform. The tool is fully accessible via their website, and comes with a nice and stylish interface to play around with. There are lots of options and settings to choose from when generating your images, and Playground gives free users a generous 1000 image generations per day. That's a lot of images for free!
Playground also features a gallery of AI generated images. This can be a great way to gain some inspiration for your next prompt and get a general idea of what the image quality is like.
How can I access Playground?
To access Playground simply visit their website at: https://playgroundai.com/ You can browse the site without making an account, but you'll need to sign in to generate your own images.
Can the images be used for commercial purposes? Who owns the copyright? 
Playground states that you own all assets you create with the service. You are entitled to use your images for both personal and commercial use. Accordingly, images that are generated by other creators on Playground are owned by them.
Can I upscale images on Playground? 
To upscale images on Playground AI after leaving the Create page, follow these steps:
Click on your avatar/profile and select your Profile from the drop-down menu.

Click on the image you want to upscale to access the expanded view.
Click on the ellipses (…) and choose "Upscale by 4x."
Wait for the upscaled generation to be available.
Finally, click on Download to retrieve the upscaled image. 
Can you generate private images on Playground? 
Images are generated publicly by default on Playground. However, you can generate private images by clicking on the slider under Private Session. 

Mage Space is an easy way to generate AI images online for free. Similar to other tools on this list, you can visit their website and enter a text prompt to generate all styles of images. You don't even need an account to start creating!
Mage Space uses various Stable Diffusion models, most notably v1.5. Images aren't quite as impressive as some of the above tools, but it's still a great option if you're looking for a quick, fun, and easy way to generate a few AI images. It's fast, too, usually generating images in just under 10 seconds.
How can I access Mage Space?
To access Mage Space, visit their website at: https://www.mage.space/
What models does Mage Space use to generate images?
Mage Space uses the Stable Diffusion v1.5 model for free users. To access the other models, you need to upgrade to Pro.
How can I access options on Mage Space?
To get access to more options when you're generating images, click on the "View options" button to the bottom left. Here you can experiment with different options such as aspect ratio, steps, and guidance scale.
Can you use images generated by Mage Space for commercial purposes?
Images generated by Mage Space are considered public domain and thus, you are able to use the images for anything, including commercial purposes!
We hope a few of these free Midjourney alternatives offer you what you're looking for! Whilst Midjourney is very difficult to beat when it comes to the quality and creativity of images, these free alternatives are more than capable of producing AI images and art that's extremely close to the quality of Midjourney. Give them a try for yourself and see what you think – they are free after all!