In the ever-evolving realm of digital marketing, staying ahead of the competition requires utilizing cutting-edge technologies. One such game-changing innovation is , of course, AI. AI SEO tools have emerged as indispensable assets for businesses striving to enhance their online visibility and outrank competitors in search engine results pages (SERPs). With their ability to analyze vast amounts of data, identify trends, and provide actionable insights, these tools offer a significant advantage in achieving optimal SEO performance. In this article, we will explore some of the best AI SEO tools, why you should use them, and highlight their key benefits and features.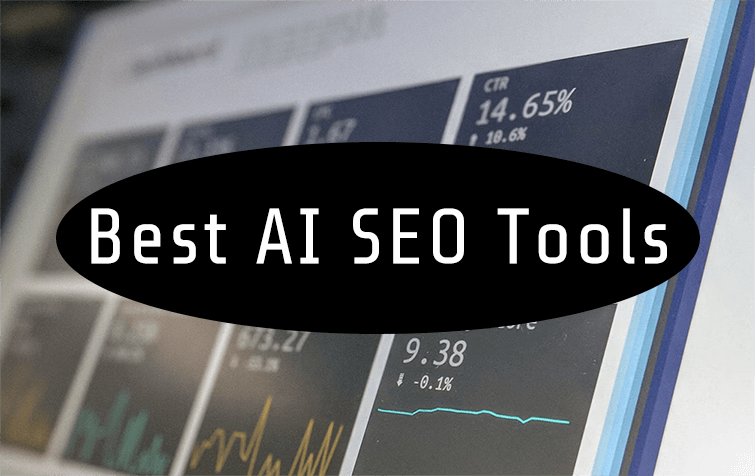 Why Use AI Tools for SEO?
There are a number of advantages to be gained by leveraging AI tools into your SEO strategy. Here are some of the most valuable benefits we've found from using AI tools ourselves:
Supercharged Keyword Research
AI SEO tools excel at analyzing massive keyword datasets, which can help you discover the most relevant and high-performing keywords for your business and niche. These AI SEO tools can uncover valuable long-tail keywords, identify search trends, and offer insights into user intent. With this information at your disposal, you can easily optimize your content and meta tags to align perfectly with user queries, thus boosting your website's chances of appearing at the top of search results!
Content Optimization
Creating engaging and SEO-friendly content is vital for getting that valuable, targeted traffic. AI SEO tools can help content creators by providing comprehensive optimization suggestions. They can analyze your existing content, identify areas for improvement, and recommend relevant keywords, semantic variations, and structural modifications. By using AI as a SEO analysis tool, you can elevate your content strategy and ensure your website is primed to captivate both search engines and human visitors.
Intelligent Rank Tracking
Tracking your website's performance in search rankings is essential for monitoring the success of your SEO strategy and efforts. Most AI SEO tools provide real-time rank tracking, allowing you to analyze fluctuations, identify patterns, and gain a comprehensive understanding of your website's visibility across various search engines. With the help of AI's predictive capabilities, you can also anticipate future trends, adapt your strategies accordingly, and maintain a competitive edge within your niche or market.
Scalenut works as a all-in-one solution for SEO and content management. Whether you're identifying keyword clusters, creating content briefs, or optimizing for higher search rankings, Scalenut streamlines your entire content lifecycle.
Key Features
Entire SEO content lifecycle in one app

Cruise Mode: The #1 SEO blog creator
AI that stays updated with the latest information
Automated optimization technology
Powerful keyword planning
How can Scalenut benefit my content strategy?
Scalenut offers a range of powerful features that can improve your content creation process. It includes a Content Optimizer to boost your search engine rankings, Cruise Mode for trustworthy content creation, Keyword Planner for topical authority, and AI Copywriting Templates for various marketing needs.
Does Scalenut offer a Chrome extension?

Yes, Scalenut is also available as a Chrome extension! With a wide range of features and capabilities, the extension allows you to elevate your content creation game directly from your browser.
Can I fine-tune the AI-generated content with Scalenut?
Yes, with the AI Copywriting Templates, you have complete control over your content. Scalenut's AI copywriter assists you in creating compelling ad copies, convincing sales emails, captivating blog posts, and more, allowing you to customize and fine-tune the AI-generated content according to your preferences.
Surfer SEO is a well-known and highly rated AI tool in the SEO space. It can research, audit, write, optimize, and generate SEO-optimized articles in just a few minutes. It's a comprehensive content strategy solution that yields real results with minimal effort.
Surfer AI, the tool's AI writing feature, allows you to produce top-quality, well-optimized articles. It streamlines content creation by handling research, writing, and optimization, giving you more time to review and refine your content.
Surfer offers a range of features to enhance your SEO workflow. You can generate catchy headlines and outline your content using the built-in Outline Builder. It supports writing and optimization in multiple languages, providing real-time metrics for structure, word count, NLP-ready keywords, and images.
How does Surfer's Keyword Research tool work?

Surfer's Keyword Research tool is the foundation of your content strategy. It simplifies the research process by providing you with potential keywords that are relevant to your niche and industry. It also offers insights into competition and estimated search volume. It can even help you organize your keywords effectively and develop topic clusters, which are crucial for showcasing authority and expertise to Google.
What is the Content Score variable in Surfer AI's Content Editor?

The Content Score is a numerical grade that represents the quality and optimization level of your content. Surfer has described the following scores and their values:
Below 33: Your content needs more optimization and additional text.
Between 33 and 66: Your content is reasonably well-optimized, but some improvements can still be made.
Above 66: Your content is well-optimized and ready for publication. Aim for a score above 66 for decent optimization.
It's important to note that achieving a score of 100 is rare and not always necessary. 
What are Surfer Add-ons?

Surfer Add-ons are additional features that can be purchased to gain access to some of the advanced tools. They provide extra functionalities beyond the core features of the Keyword Research and Content Editor tools. Add-ons are not required, but they are worth checking out if you're serious about your SEO results.
Content at Scale is dedicated to AI writing and can create high-quality, SEO-focused, long-form blogs with your unique voice. It aims to surpass AI content detection, and even offers a free AI content detector tool to check with. 
The AI takes inspiration from top-ranking content and produces fresh, optimized drafts. You can easily edit the created content before publishing it. 
It supports various input sources like keywords, URLs, podcasts, YouTube videos, and documents. The AI produces blog posts averaging 2,667 words and provides built-in capability for plagiarism scans, WordPress and Shopify integration, automated internal linking, and more. 
What sets Content at Scale apart from other AI writers?

Unlike traditional AI content writers and text generators, Content at Scale offers high-quality content that is designed to bypass AI detection. It combines the power of AI with human SEO expertise, allowing you to produce bulk content efficiently while also maintaining quality.
What languages does Content at Scale support?
Content at Scale now supports many different languages! The content is no longer just a translation, but it's actually written natively in your chosen language.
Are there are samples of content written by Content at Scale?
Yes, on their website they have posted three different samples within their FAQ section. The examples were each created differently using a keyword, a podcast, and a video as the source.
When it comes to internal links, Link Whisper makes internal link building easier than ever. This AI SEO tool for WordPress sites and Shopify stores suggests relevant internal links as you write, saving you time and effort. 
It can help you quickly find and build internal links to old posts that need more attention and traffic. You can also benefit from automatic links from keywords of your choice, further automating your SEO strategy. 
With in-depth link reporting, you can take control of your site structure and identify broken links. Additionally, you can add target keywords for better internal linking and even connect multiple sites to receive link suggestions between them.
How do I install Link Whisper on my site?

To install Link Whisper, go to the WordPress Admin, navigate to the Plugins menu, and click on "Add New." Then, click the "Upload Plugins" button, choose the Link Whisper files you downloaded, and click "Install Now." Finally, click "Activate Plugin" to complete the installation.
Is Link Whisper compatible with WordPress page builders?
Yes, Link Whisper is compatible with various page builders and editors, including Classic, Gutenberg, Beaver Builder, Thrive, Architect, Elementor, WooCommerce, Kadence Blocks, and most others!
How do I use Link Whisper Reports?

The Link Whisper Reports are fully customizable and provide valuable information about your internal link structure and help you tailor it to your site's specific needs and interests.
Postaga is the perfect SEO tool for managing your backlink strategy through email outreach. The Opportunity Finder function lets you quickly find the right websites and blogs to connect with in regards to backlink opportunities.
The dashboard allows you to easily manage all of your backlink-related emails. Including website owners contact information for personal communication, email composing and sequencing, and seeing which websites are aware that you've linked to them.
Postaga's CRM  helps you stay on top of your open opportunities and continually monitor your outreach strategy. It allows you to track the status, stage, the opportunity type, and more, so that you never miss out on a backlink opportunity.
Can I use any email provider with Postaga?
Yes, Postaga supports integration with most major email providers, including Gmail, Outlook, Yahoo Mail, and others. Simply select your email provider and follow the instructions to connect your email account to Postaga.
How does Postaga find contact information and backlink opportunities?
Postaga utilizes advanced AI and search techniques to find contact information from various sources, such as public directories, social media profiles, and website contact pages. The opportunities are found using similar methods, matching you with websites that are related to your industry or niche.
Is my data secure with Postaga?
Postaga takes data security seriously. Your information and contact data are encrypted and stored securely. Postaga follows industry best practices to ensure the privacy and security of your data.
FAQs
Are AI SEO tools easy to use?
Most AI SEO tools are designed with user-friendliness in mind. They often feature intuitive interfaces and provide step-by-step guidance. However, the level of complexity may vary depending on the tool. It's recommended to explore tutorials or seek assistance if you're new to AI tools and SEO in general. Having some basic knowledge about backlinks and keywords can help quite a lot – it's valuable knowledge that will stick with you and provide all sorts of future value!
How expensive are AI SEO Tools?
The cost of AI SEO tools varies depending on the provider, features, and subscription plans. Some tools offer free versions or trial periods, while others only work with a paid subscription. Consider your budget, needs, and the value the tool brings to your SEO efforts when selecting the right tool for your business. Many of these tools will allow you to scale your budget accordingly to your business size.
Can using AI harm my SEO?
SEO is a tricky thing to get right, and in some cases it's actually quite easy to harm your SEO rather than improve it! It's important to still maintain and monitor your SEO strategy yourself, and try not to leave everything to AI. While it can be enticing to have an AI tool generate hundreds or thousands of outreach emails – it's not good practice and will probably come across as spammy. When trying out a tool for the first time, it's a good idea to start slow and monitor the results before going all in.
Can AI SEO tools improve website speed and performance?
They can indeed! Some AI SEO tools offer website performance analysis, highlighting areas that may impact site speed and user experience. By identifying performance bottlenecks, such as large image sizes or slow-loading elements, these tools can help you optimize your website for faster loading times, ultimately enhancing both your user satisfaction and SEO rankings.
AI SEO tools are an extremely valuable resource in the world of SEO today. We hope that some of the tools we've shared on this page will be of value to you and give you an edge over your competitors! SEO is constantly changing, and by using AI tools you can give yourself the benefit of staying on top of the latest techniques and strategies. They are especially useful if you find yourself managing multiple websites, where you may not have the time to dedicate a specific SEO strategy for each website.
Thanks for reading! Do you use any AI tools for your SEO? If you have any suggestions for us, feel free to get in touch on our contact page.