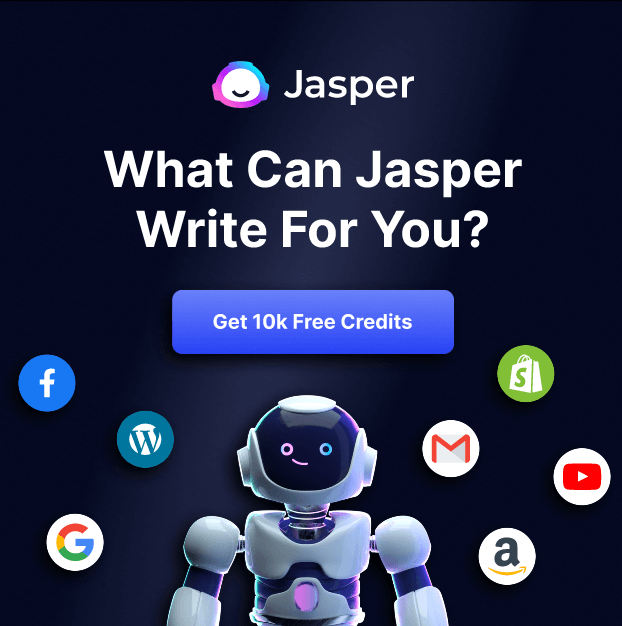 Jasper AI is a specialized AI writer and content generation tool which creates original and creative content. This tool can be used for quickly creating blog articles, social media posts, detailed descriptions and more long-form content. The limits are pretty endless when it comes to the type of content Jasper can generate! Jasper takes advantage of OpenAI's GPT-3 AI model while implementing its own unique features and settings. Many marketers swear by Jasper when compared to other AI content generation tools as it often produces the highest quality articles in comparison to the cheaper alternatives out there.
With Jasper AI, you can write in many different styles and the software will ensure that each sentence flows smoothly and cohesively while maintaining a natural tone. Although if you're like me you might want to proofread all of the content you generate just for peace of mind! Tools like Jasper can also be useful for content inspiration when struggling for ideas. Putting in a few details and keywords about what you are looking to achieve and then having Jasper AI come up with ideas on the spot is super helpful.
Is Jasper AI Free?
Jasper is a paid AI tool and unfortunately not free, however you can get a free trial for the tool by using our link. You will also receive 10,000 free credits to help you get started. The free trial should give you enough space to test out the tool and see if it's going to be useful for you before committing to a purchase.
Since their pricing model update, Jasper AI now operates on a words per month payment plan. The basic starter plan will let you generate 35,000 words per month, while the boss mode plan will get you 100,000 words per month. They also offer a business plan for those looking to regularly utilize Jasper AI within their business and workflow. This allows you to negotiate your own word limits per month as well as gain access to all the templates, features and a dedicated account manager.
Here are the full pricing plans for Jasper AI: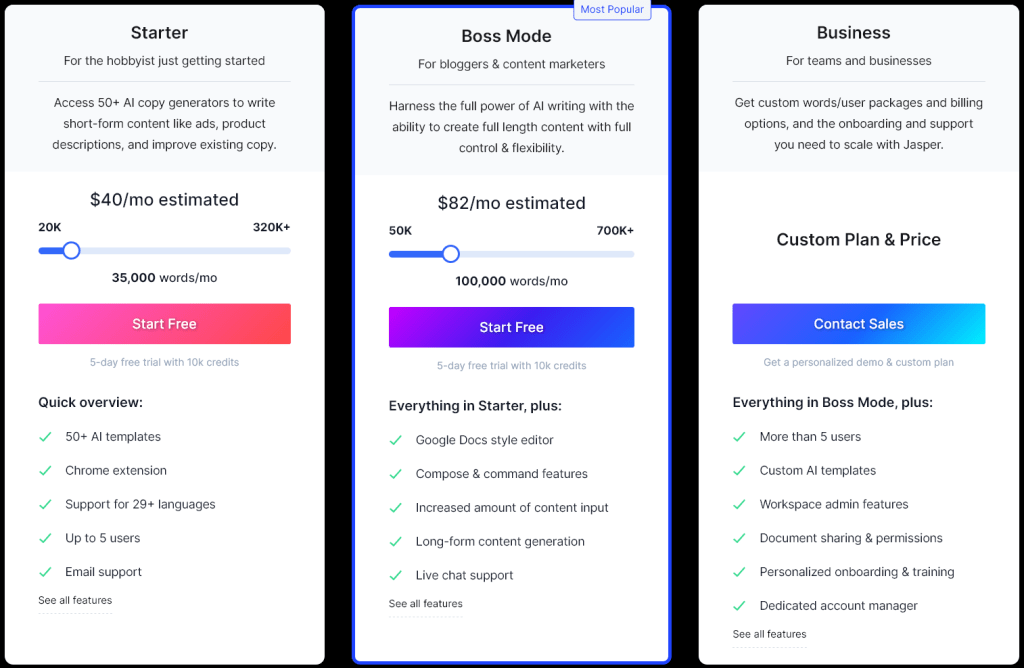 Overall I would recommend Jasper AI if you're looking to generate tons of long-form content on a consistent basis. For personal and recreational use, there are many cases where you could just use ChatGPT instead. Either way, I'd definitely recommend trying the free trial out if you're interested in what Jasper has to offer, the 10,000 free credits can go a long way. The reviews on this tool are all pretty solid if you check the TrustPilot and Capterra pages, most of the negative ones are related to the pricing scheme which is understandable.