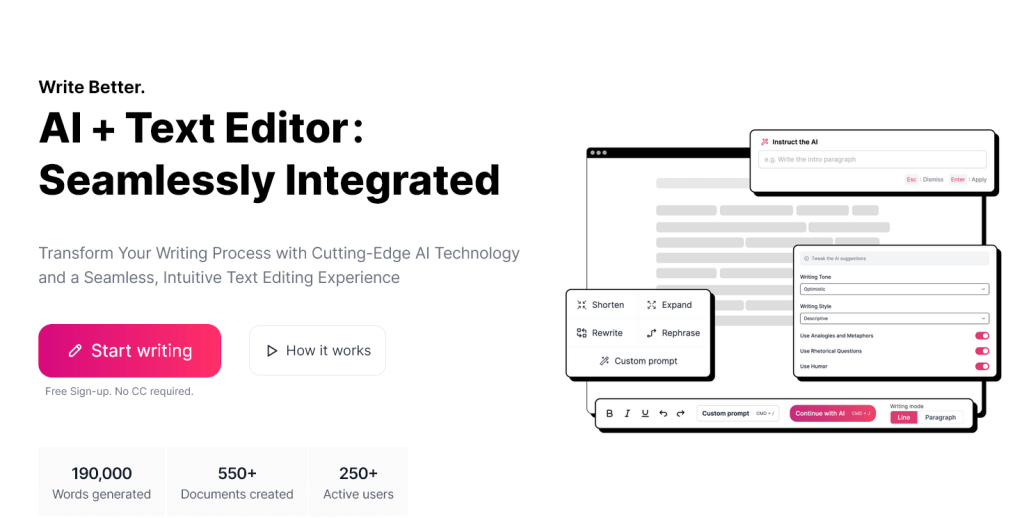 BBP provides a user-friendly text editor that lets you craft your content effortlessly and leverage the AI's writing assistance whenever required.
Key Features
Easy editing experience: Bye Blank Page provides a simple yet powerful text editor that makes crafting content effortless.
Auto-writing: Struggling with writer's block? With BBP, you can continue writing seamlessly by letting the AI write for you. You can either write line-by-line or let the assistant draft an entire paragraph.
Custom prompt writing: If there's something specific you want to add, simply tell BBP what you need. For instance, you could ask it to "Add a section about our newsletter". The AI will insert relevant content while staying in-context with the rest of your document.
Text transformation tools: Highlight any portion of your text and apply various text transformations such as shortening, expanding or rephrasing.
Writing assistant chat: Need a second opinion on your work? Get help from BBP's built-in writing assistant chat. Ask questions like "How's my opening?" or "What should I include?" and receive immediate feedback in-context of your document.