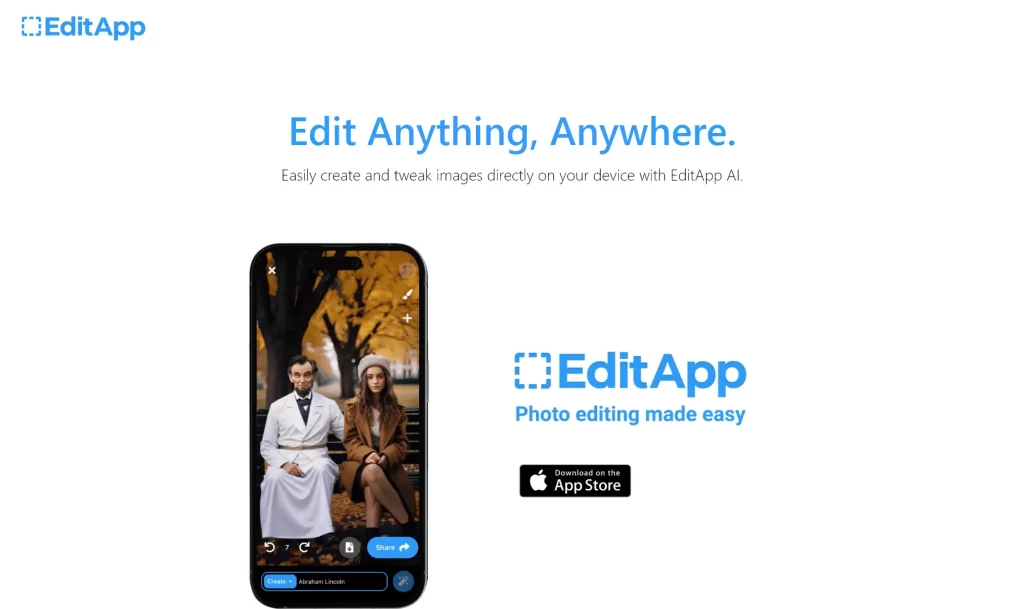 EditApp AI is the simplest photo editing app that brings AI photo editing right onto your mobile device. The app is easy to use: just select an area, type a prompt, and watch AI bring anything to life in your photo.
Key Features
Select
Introduce unexpected elements into your shots. Whether it's a UFO making an appearance in your backyard, a loveable puppy playing at your feet, or a selfie with your favourite influencer, make every photo a story worth telling.
Paint
Want a wardrobe change? Paint your casual tee and morph into a flowing pretty dress or a dashing tuxedo. Maybe try on a new hairstyle, or see how you'd look like with a beard. It's entirely under your control.
Background Swap
Change your scenery in a snap. Breakfast on the Moon? A selfie on top of the Pyramids of Giza? Transport yourself into your favourite video game? Your backdrops are only limited by your imagination.
Showcase Your Vision
When your masterpiece is ready, share it with friends and family, and watch those reactions roll in.