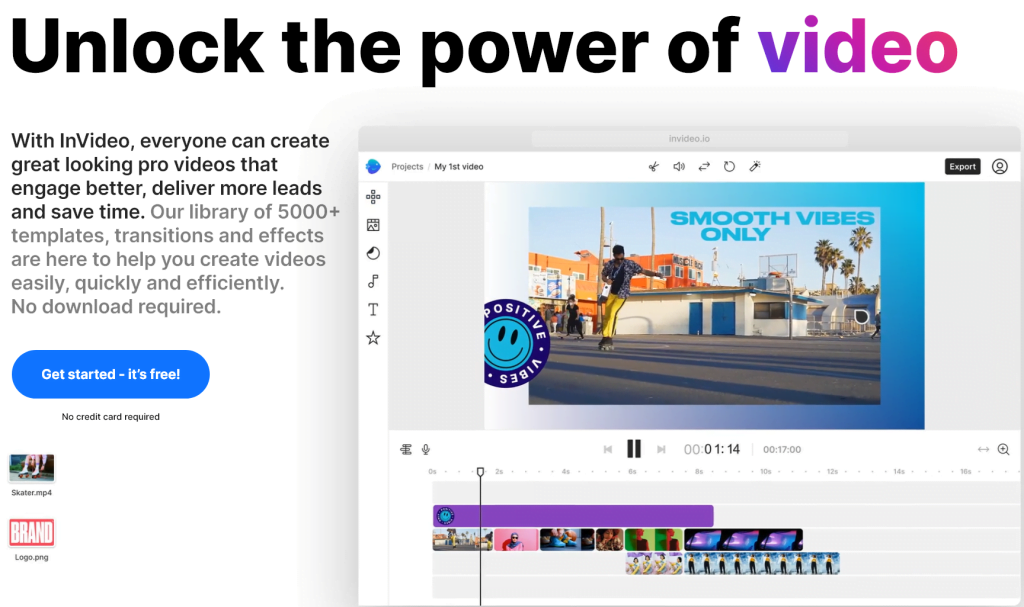 InVideo is an AI video-editor that lets you create attractive and appealing videos for your business. With InVideo, you can create videos for YouTube, Instagram, Facebook, and many other platforms. This tool gives users three options when it comes to making a video: blank canvas, text to video, and pre-made templates. The pre-made templates are a great way to get started quickly, and you can easily edit them to make the video more personal or professional.
User-Interface
The templates are organized into categories such as intro and logos, slideshow, business presentation, video advertisement, webinars promos, greetings, and listicles.
The InVideo dashboard is simple and easy to use. The toolbox is placed on the left side, the timeline is at the bottom, and the screen is in the center. The toolbox includes options for music, images, videos, text, logo, stickers, shape, mask, and more. InVideo also includes a voiceover facility and a voice recording facility, with male and female voices from different countries.
Features
InVideo lets you create videos in different aspect ratios, including 1:1 (square), 16:9 (YouTube), and 9:16 (Instagram). If you want to learn more about the platform, you can book a webinar with the InVideo experts. They will explain the features, pricing, and everything you need to know about InVideo. If you ever get stuck, you can use the knowledge base here to find answers to your questions.
Is InVideo Free?
InVideo is available in three pricing plans: free, business, and unlimited. You can use the tool for free to create videos within the editor, however if you're on the free plan your exported videos will have a watermark. You'll need to purchase a paid plan to remove the watermark. You can check out InVideo's pricing plans below.
InVideo Promo Codes
Save 30% on ALL InVideo annual plans with code AIVIDEOS30
Save 25% on ALL InVideo monthly plans with code AIVIDEOS25