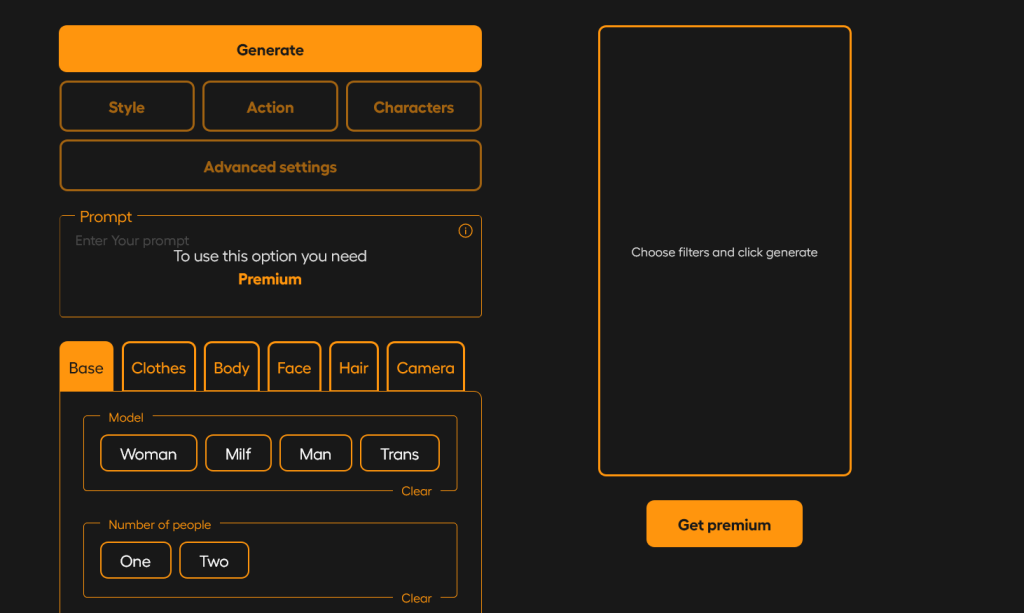 IceGirlsAi is an NSFW AI image generator that specializes in AI NSFW content. This tool allows users to create ultra-realistic or animated high-quality AI explicit images. Users can take a look at the IceGirlsAi HUB page that shows other user-generated AI images and can take inspiration from this page, copy the settings, and try to replicate the image. IceGirlsAi supports a custom prompt function so users can create whatever is on their minds. Users simply input their desires and get a sexy AI image right away.
The "Characters" feature allows users to pick a well-known character like "Elsa from Frozen" or "Gwen from Spiderman" and make unlimited images of them. IceGirlsAi premium members can use the "Poses" tab to generate individuals in different sex poses like doggy style and missionary. Moreover, with the upscale feature users can turn images into 4k resolution within seconds. IceGirlsAi is the most convenient AI NSFW generator that works for free with user-friendly design both on mobile and desktop devices.
Key Features
Uncensored AI image generation: IceGirlsAi can generate AI images without any censorship including explicit content like naked women or men and in different sex positions.
Custom prompts: IceGirlsAi supports custom prompts, so users can fill in whatever they want to see and get their desired result instantly. Whether the user wants a naked girl or a girl in a Spiderman costume it is possible with the prompt feature.
Well-known characters: IceGirlsAi has a "Characters" feature where users can generate images of well-known characters like Sakura from Naruto or Anna from Frozen.